By Sonja Baksa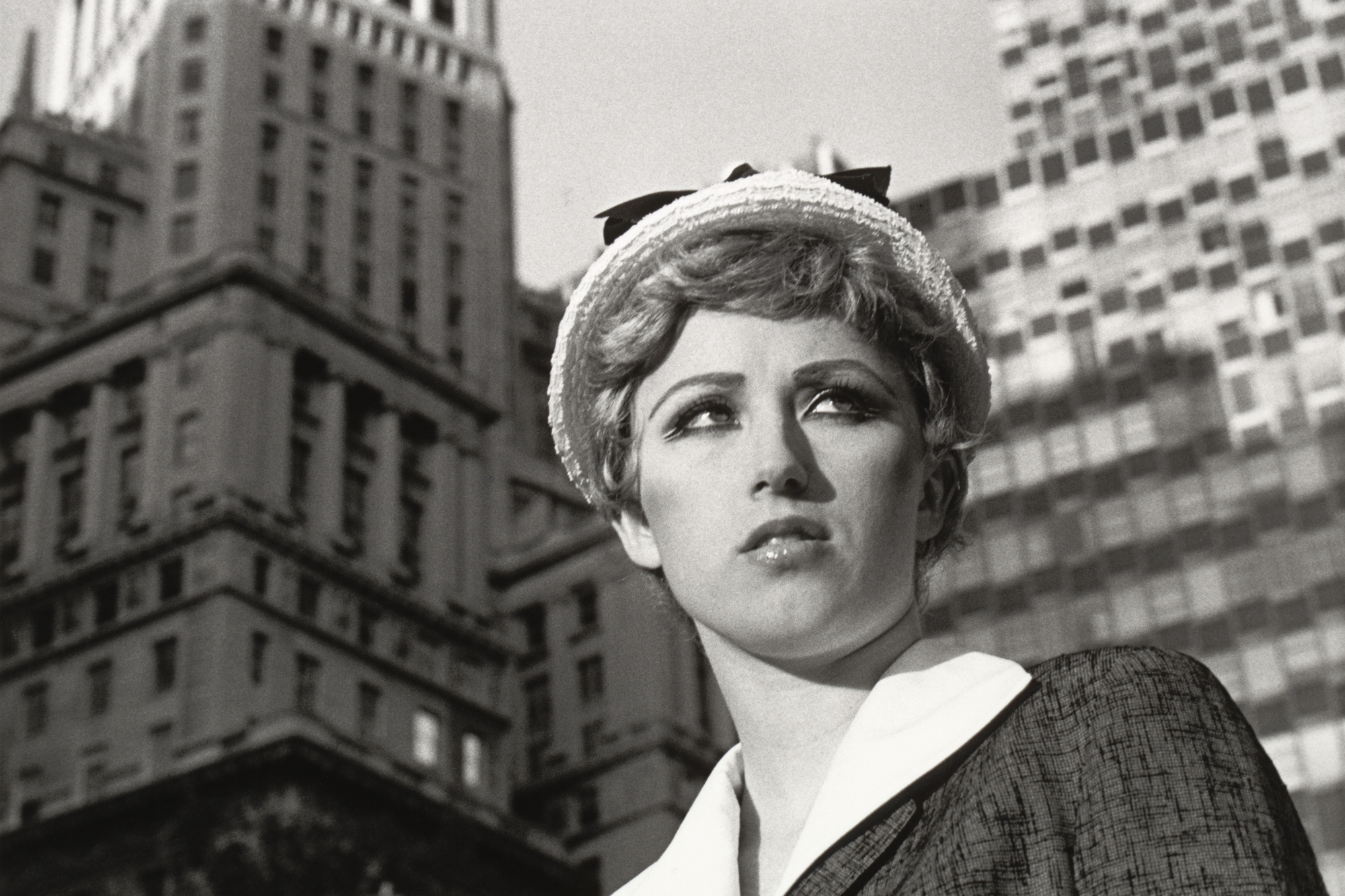 The Vancouver Art Gallery is currently hosting the most extensive retrospective of Cindy Sherman's work ever shown in Canada. Spanning from her early creative gestures to her most celebrated photographic series, it traces her evolution as an artist and her continuous, unrelenting investigation of identity and representation.
In her practice, Sherman acts as a one-woman production studio, staging narrative snapshots that adopt the visual language of film, fashion and advertising. Throughout her career, the artist has inhabited an impressive range of characters while drawing directly from the iconography of popular cinema and mass media. Through this process, she deconstructs the ways media exacerbate social and visual codes that we consciously or unconsciously replicate in daily life.
In collaboration with VIFF, Sherman selected a programme of her favorite films for the occasion, to complement and contextualize her body of work. Like the exhibition, the chosen films span different eras, genres and artistic approaches. The stories and characters, however, remain hauntingly familiar.
The film series kicks off with the camp classic What Ever Happened to Baby Jane? (1962), directed by Robert Aldrich and starring Hollywood dames Joan Crawford and Bette Davis. A clear parallel can be drawn between Sherman's ironic take on our preoccupation with self-image and Aldrich's tale of sibling rivalry and pathological narcissism.
Bette Davis's character is fixed on her child star persona – Baby Jane Hudson. It marks the happiest period of her life, to which she reverts anytime past trauma is triggered. The film opens with Baby Jane's sweet rendition of I've Written a Letter to Daddy. She has crowds eating out of her hand, and most importantly, all of daddy's attention. A few decades and a tragic accident later, she turns into a mean-spirited, bitter alcoholic who uses every opportunity to punish her paraplegic sister for her own shortcomings. She secretly dresses up as an adult version of Baby Jane, desperately searching for that little girl in the mirror. But staring back is only a pained grimace of disintegrating features. As she spirals deeper into her madness, her pathology peaks in a manic performance of her hit song, complete with a white babydoll dress, pigtails, and infantile choreography. The juxtaposition is undeniably grotesque.
As the one who grew up in the shadows but eventually found even greater success in the entertainment industry, her sister Blanche (Joan Crawford) retains some semblance of dignity and restraint. She has been conditioned to be patient, gracious and humble. But her graciousness is also performative, part of Blanche's own self-aggrandizing repertoire. She mourns the loss of public adoration and surrounds herself with her youthful portraits, reminiscing about the glory days to the point of caricature.
Caricature and the grotesque feature strongly in Sherman's interpretation of cinematic imagery. This aspect appeared a bit later in her work, in the series Fairy Tales (1985), and especially in a more recent series, Society Portraits (2008), in which she evokes the complexity and horror of aging.
Fairy Tales is a series of tableaux depicting nightmarish scenes drawn from children's fairy tales, low-budget sci-fi, and horror films Using makeup, prosthetics and dim lighting, she places the characters in gruesome circumstances, macabre scenarios, and shows them in advanced stages of their pathologies. Sherman articulates psychological decay through signs of physical deterioration such as dirty, disheveled hair, scarred, clammy skin and rotting teeth.
In Society Portraits, the grotesque element is more subtle. She spotlights women of high society and the many ways they compensate for the loss of their youthful appearances. These techniques range from plastic surgery to aggressive displays of social status through ostentatious outfits and expensive jewelry. But none of the adornments and cosmetic enhancements can mask the striking look of fear and vulnerability in their expressions. They have all become caricatures of themselves.
Next on the programme is Russ Meyer's Beyond the Valley of the Dolls (1970), co-written by the late film critic Roger Ebert. In a way, this film animates some of the core sentiments of Sherman's still narratives. Set in Hollywood, the film aptly satirizes the roles and characters regurgitated by the industry. Meyer's film unfolds as a series of random, sexually explicit sketches, gradually desensitizing the viewer to the increasing absurdity and rampant nudity. In the process, it establishes a consistent visual style and introduces a troupe of colourful archetypes. As a self-aware parody, it thrives and revels in its artifice.
Meyer's film addresses some of the same ideas as Sherman's breakout series, Untitled Film Stills (1977 – 80). The series acted as her artist statement, comprising 70 black-and-white stills of self-constructed personae, using clothes, props and makeup to recreate the look of European art house cinema, film noir, and 1950s B-movies. None of the stills reference any specific films or characters but their ambiguity is equally evocative of a mood or narrative arc. Like Meyer, Sherman strings together a rich lineup of cinema stereotypes. She also adopts the specific visual style of quasi-sophisticated, black-and-white cinematography, replicating some of its camera angles, public and interior settings, and lighting conditions.
Some of the film's ideas could also be linked to Sherman's own look at the commodification of female sexuality in Sex Pictures and Surrealist Pictures (1992 – 96). In these pieces, she dissects the visual language of pornography, this time using dolls and props instead of herself as a model, mocking narrative conventions void of any sensuality or humanity. In comparison, Meyer highlights this contradiction through his film's endless parade of flesh, with characters randomly engaging in sexual acts.
The film series will close with Jonathan Glazer's critically acclaimed arthouse sci-fi thriller Under the Skin (2013). This intensely atmospheric film is largely defined by its pulsing, slow-motion seduction sequences. Central to its hypnotic allure is Scarlett Johansson, who portrays an alien creature that lures men back into her den. In what has now become one of Johansson's iconic roles, her character is gradually revealed to be a featureless, humanoid entity. Ironically, by the end of the film, the creature that emerges from its shell manages to generate more sympathy than her previous "human" form.
Under the Skin further underlines Sherman's focus on the idea of the body as a blank canvas on which we project our identity. The lack of narrative context in the film highlights this concept, and creates an uncanny tension as each sequence features a familiar character (a version of a guy we all kind of know, from life or from other films), a familiar development, and familiar psychology. And eventually, pathology. The vague familiarity of these scenarios breeds the question: to what degree has the behaviour of the men in the film been informed by conventional storytelling and cinematic imagery? And to what degree has Johansson's alien seductress adapted to these gendered codes to capitalize on their attraction?
A similar idea can be traced back to one of Sherman's earliest student works, and one of her very few moving image outputs – Doll Clothes (1975). The short film, which combines live-action photography with animated sequences, presents a cut-out figure that flips through its collection of paper outfits designed for different moods, trying to decide on a look. In that sense, Sherman is evoking the endless possibility to reinvent ourselves in a culture as visually saturated as ours. And cinema plays a significant role in contextualizing the various identities we pick and choose from.
It's especially telling, then, that Sherman selected three films that, for the most part, feature character constructs we are made to examine without much context. Because quite often, this informs our own unconscious patterns of reading and relating, prompting us to look beyond the artifice, and in return, reconnect with our core identity.